Traveling?
If you are in our area, come join us!
?

BLAINE, WA AREA
Second Thursday of the month at Bob's Burger and Brew, I-5 mini-mall, exit 270 (Birch Bay exit) off I-5, Blaine, WA Contact
Andy Hattery at (360) 332-2460 alhattery@comcast.net
SPOKANE/NORTH IDAHO
For those traveling in/around Spokane/North Idaho - Second Wednesday of each month we meet at
Old European Restaurant
7640-North División St
Spokane Wa 99208

(509) 467-5987
Contact Ken Langford (509) 244-1329 or email mlangf4480@aol.com.
BUFFALO, NEW YORK, AREA
First Tuesday each month at 12:00 noon at the Millennium Hotel, Walden Avenue at I-90. Contact Richard Mauer,
716 648 0691
, rich8home@roadrunner.com.
BURLINGTON, VT AREA
First Wednesday each month at 12:00 noon at Trader Duke's, Doubletree Hotel I-89 & US2 Exit, 1117 Williston Road, So.
Burlington, VT. Contact Dick Thut (802) 985-8756 or e-mail at borderpat6@aol.com.
DEL RIO AREA
Luncheon time will be the 3rd Friday, of the 1st month, of each new quarter (January, April, July, October). The luncheon will be at the Ramada Inn Restaurant located at Cantu & Veterans @ 11:30A. Contact: Lane Horger at lanehorger@yahoo.com, (830) 719-9687 or Jerry/Elva Goodman at jer_goo@yahoo.com, (830) 719-2423.
DETROIT, MI
Meet us at noon on the second Wednesday of each month at Famous Dave's, 20300 E. 13 Mile Road, Roseville, MI 48066
EL CENTRO, CA
Every weekday at Carrows, 1002 North Imperial Avenue, El Centro, CA, 2p.m.. Contact: Kay Hamilton 760-352-1079.
EL PASO AREA
First Wednesday each month at: Gerardos 6099 Montana Av. Contact David Ham (915) 833-5938 or email at dbham8@
sbcglobal.net
HELENA, MT AREA
Third Friday at 11:00am each month. Our meeting place is Shellie's Country Café, 3122 Highway 12 East. Contact Randy
Robinson at (406) 459-6512
LOS ANGELES/ORANGE COUNTY AREA
First Tuesday each month at 12:00 noon at the Elks Lodge, 11551 Trask Ave., Garden Grove, CA. We need a contact for this venue.
NORTH/CENTRAL TEXAS
Meetings are held on Wednesdays at 1:00 PM mid-month every 3 months and members are notified in advance advising the date and location. Any person wishing to join us, please contact Gale David, telephone 214-236-8147, email galeflrmd@verizon.net.
SAN ANGELO, TEXAS AREA
We don't have a particular meeting date, but if you're in the neighborhood contact Jack Pool at (325) 949-8499, or email at ejackpool@yahoo.com.
SAN ANTONIO AREA
Third Wednesday each month at 11:15 a.m.; meet at entrance (inside when cold) to Golden Corral on Loop 1604 West and
Bandera Road and then lunch at 11:30a.m. All former Border Patrol and I&NS employees, widows, wives, lady friends,
guests welcome. Ramiro C. Ramos, 210-403-9665. E-mail address: RCRamos170@satx.rr.com
TEXAS HILL COUNTRY
Second Wednesday of each month at Mamacita's Mexican Restaurant, 215 Junction Hwy, Kerrville, TX at 1 PM; for more
information contact; Mel Heck (830) 257-5032, or E-Mail mjheck53@windstream.net; or Bob Wylie (830) 367-7563 or Email at bobwylie@suddenlink.net.
TEXAS PANHANDLE
First Tuesday quarterly (Jan., April, July, Oct.) at Henry D's, located in the United Grocery Store, 45th and Bell Street,
Amarillo, TX, 11:30 a.m. Contact Virgil Speer 806-353-0622 or email at vdubyas@att.net
TUCSON AREA
Fourth Tuesday each month at 9:00am for breakfast at Denny's, 5000 North Oracle Road (corner of River Road and Oracle
Road) Tucson, AZ. Contact Bobby J. Nix (520) 384-6102 bobjnix@hotmail.com or John Jean (520) 760-1753
WEST CENTRAL FLORIDA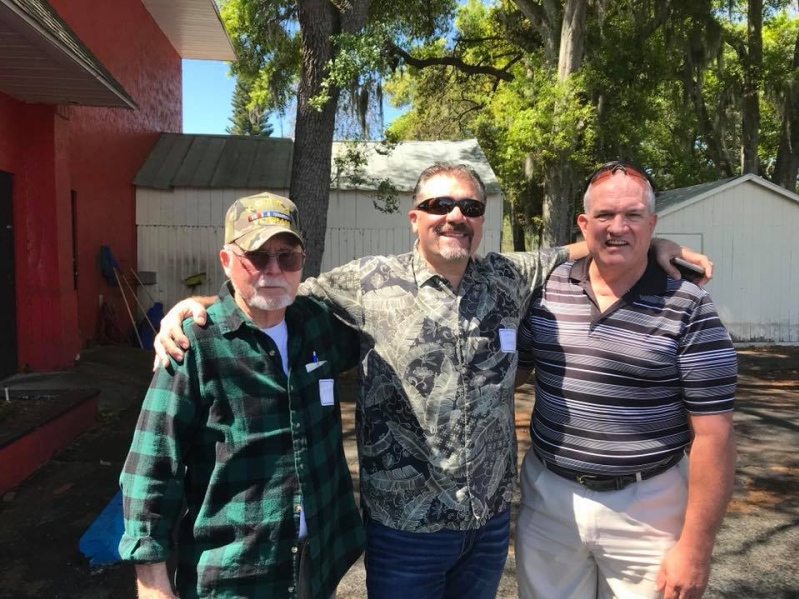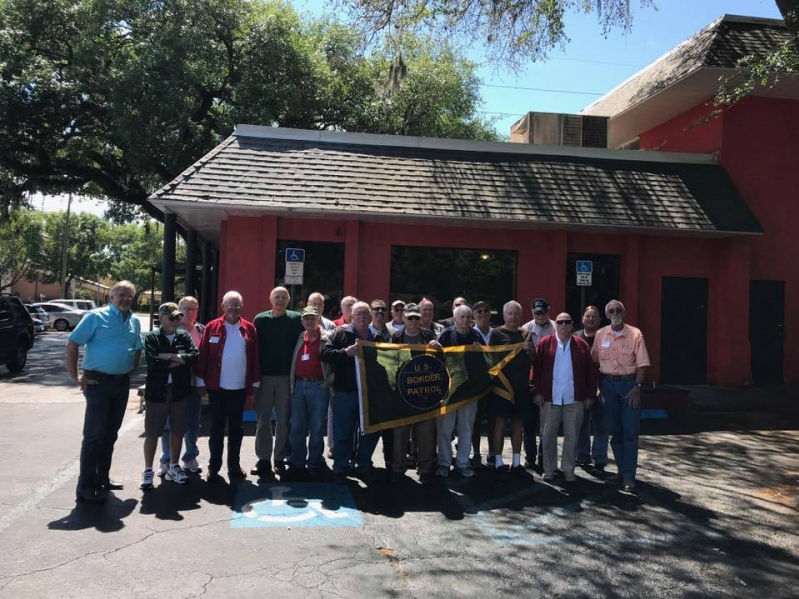 Second Tuesday of the month October thru April and in June, at 11:00am at various locations in the Brandon (Tampa) area.
For specific information, contact Art Dunlap 941-473-4789 or email arthurdk1@verizon.net or Meletha Everett 813-685-1675 or email at Artwiz2000@aol.com.
?